This new flag for the county of Oxfordshire is the proposal of The Oxfordshire Association http://oxfordshire-association.org.uk/index.php?page=home whose chairman, Edward Keen, is seen below holding the flag
The proposal is named the 'St Frideswide Cross' after a local saint. The green ground represents the fields and woodlands of Oxfordshire, and the blue field represents the Thames. The Oxfordshire Association successfully raised this flag at the Department for Communities and Local Government in 2011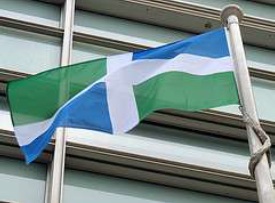 In 2013 the Oxfordshire Association was contacted by the local Salle fencing club who advised that they had chosen the Saint Frideswide cross for their club badge
Sara Williams of the club said, "I'd read about the Oxfordshire Flag in the local paper and liked the design a lot; it had the simplicity we needed and was colourful enough to stand out well against the white of fencing jackets."
Presently the flag remains a prime contender in any prospective county flag competition.
Two further ideas regarding Oxfordshire both aim to realise the name of the county graphically. The first proposal from Brady Ells
depicts a red ox's head at the centre of an unsual white cross, comprised of one straight and one wavy arm. These respectively symbolise a straight road crossing a flowing river, the centre point being the crossing, where the "ox", "fords" the river! The ox is that found in the arms of the Oxfordshire County Council awarded in 1949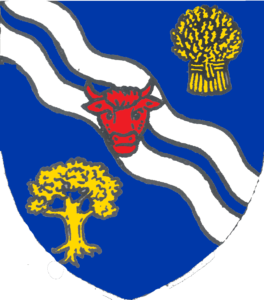 The second idea from Jason Saber
again features an ox and an aquatic reference. The base of the flag features four wavy stripes of blue and white, a traditional heraldic representation of water. Over this a wide green band reflects the county's verdant and well watered land. Against the green, a stylised representation of an ox, silhouetted in white, in a dynamic, leaping pose – the white colour standing out well against the green background. In combination, the elements portray a leaping "ox", "fording" a stream, that flows through a fertile land – a graphic statement of the county's name, origin and terrain.
Paul Lindsay has provided two suggested designs
based upon the Saint Frideswide Cross which bear, alternatively, Ox heads in red or black on white discs at the centre of the cross.