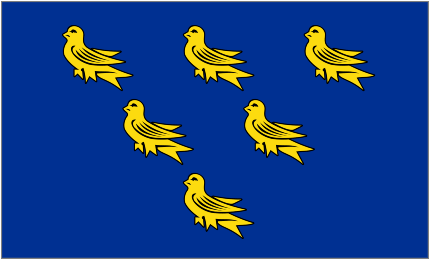 In celebration of Sussex Day, 16th June, the Sussex County Flag will be flown in each of the six ancient Rapes (divisions) of Sussex in the week running up to Sussex Day.
The Sussex Martlets will be proudly hoisted over the Council House in Chichester, from the flagpole in Maltravers Street in Arundel, from St Nicholas' Church in Bramber, from Lewes Castle, from St Nicholas' Church in Pevensey, and from Hastings Castle on Sunday 9th to 16th June; each representing their respective historic division of Sussex.
The Sussex Association are encouraging the people of Sussex to fly their county flag from June 9th to build up to Sussex Day on June 16th in honour of our shire and Sussex's patron saint, St. Richard of Chichester. The Sussex Association thanks Chichester City Council, Arundel Town Council, the Parish of Bramber, Sussex Archaeological Society (Lewes), the Parish of Pevensey, and Discover Hastings for their support and for truly flying the flag for Sussex.