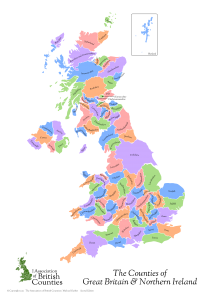 The Association of British Counties believes that the link that the historic counties provide between our present and our distant past adds great value to the life of the nation and therefore deserves to be preserved and enhanced.
The 39 historic counties of England have mostly existed largely unchanged since before 1066, the 13 Welsh ones (including Monmouthshire), like the 34 in Scotland, have been fixed in name and areas for over 400 years, whilst the arrangement of the counties of Northern Ireland we see today dates to 1613. Historically speaking, having been adopted or created in mediæval times for the exercise of a kind of administration, Essex, Yorkshire, Pembrokeshire, Fife and the rest have long since come to represent something much wider than that. They have become bedrocks of the history, culture and geography of Britain. They provide an instant means of reference to different parts of the country, to a set of cities, towns and villages; to distinctive scenery, architecture and wildlife; to particular industries and pastimes, accents and dialect, tourist attractions, weather and so on. A large literature focuses on each of the historic counties; they give their names to clubs and societies, to teams people play for, to regiments they serve in; they are familiar holiday and business destinations. Above all else, they are places – places where people live and "come from", where they "belong". And they often provide a family link with past generations.
Our County heritage is something to be treasured and nurtured by society, not tossed aside simply because the historic counties are no longer considered suitable as a basis for administration.
Further information about what the historic counties are and why they matter can be found in An introduction to the historic counties factsheet.