THE HUNTINGDONSHIRE SOCIETY established 25th April as "Huntingdonshire Day"; this, our county day, is a day to celebrate Huntingdonshire: the county and its people, its past, its present and its future.
On 25th April in past years we have organised events including readings of the "Huntingdonshire Declaration" in the main towns of Huntingdonshire. The Huntingdonshire Declaration reasserts that Huntingdonshire is a county. As every county has, it has its own history, traditions and heritage. Back in 2003 in addition, Huntingdonshire Day greeted the opening of "C17", the triennial 17th Century festival in Huntingdonshire. It was a very good day and a splendid weekend for all.
What can you do?
For children:
Early days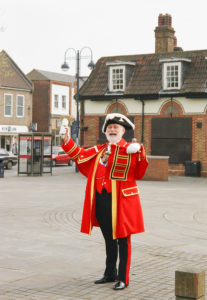 (For our published Report on Huntingdonshire Day (2002), click here.)
25th April was chosen as Huntingdonshire Day because on 25th April 1599 Oliver Cromwell was born in Huntingdon. Cromwell came from a humble background, but demonstrated that a man of Huntingdonshire can, for good or ill, rise to the highest. Thus 25th April each year is a day for every man and woman of Huntingdonshire to mark as their special day.
Huntingdonshire has always had its own identity. The absorption of Hunts into a greater "Cambridgeshire" in 1974 was never accepted by local people as an extinguishment of their county. The Huntingdonshire Society was founded in 1997 to champion that county identity. Since the Society was founded there has been a great resurgence in local people voicing that identity openly. We have come to represent the aspiration of Huntingdonshire people to be Huntingdonshire people.
One of The Huntingdonshire Society's early campaigns was to persuade local people to add "Huntingdonshire" to their addresses rather than "Cambridgeshire". It has met with a good response, and we are continuing to press that theme. However that is only one aspect of reasserting Huntingdonshire's name. We are battling against our county's invisibility to the rest of Britain, through which the county has suffered both economically and socially. The Huntingdonshire Society is hoping that Huntingdonshire Day will bring the County of Huntingdonshire to wider notice.
Huntingdonshire is wonderful county. It is one of the most beautiful shires in the kingdom. However it is often unknown because it has been left hidden within the artificial label "Cambridgeshire". We are hoping that as Hunts becomes better-known more people will come and see, and enjoy, Huntingdonshire.
Huntingdonshire is a real county. As best we can know, Huntingdonshire was created in 921, when King Edward the Elder freed Huntingdon and the lands about it from the Danes. The shire's boundaries can be traced in the Domesday Book, showing them then to be identical to the boundaries today (not quite identical to the local government district which now bears its name however). In 1888 a new "administrative county" of Huntingdonshire was created, which was eventually abolished in the Local Government Act 1972. Nevertheless that Act left alone the original, geographical county. So it is that on Huntingdonshire Day we are able to reassert the unchanged existence of Huntingdonshire, and to say that we are proud of the county and all the blessings it enjoys.
Huntingdonshire Day is not the first county day. Yorkshire Day (1st August) is now well established and other local celebrations mark county days for Lancashire (27th November), Middlesex, Pembrokeshire and Cornwall. Now it is Huntingdonshire's turn to have its own special day for celebration.
Huntingdonshire Day is an opportunity to celebrate Huntingdonshire both within the county and outside. Huntingdonshire Day is not the property of The Huntingdonshire Society. Huntingdonshire Day will give any organisation or business in Huntingdonshire an opportunity to become better known.
25th April 1599
Oliver Cromwell was born on the 25th April 1599 in Huntingdon. A good many notable folk were born in Huntingdonshire but of them all Cromwell was the most famous. He is a controversial figure, to put it mildly. Nevertheless his life shows what a Huntingdonshire man can achieve!
On 25th April 1999, Cromwell's 400th Birthday, an event commemorating the anniversary was held in Huntingdon. It was a great success. (See also our "Cromwell" page for the details.) The result is the establishment of the triennial Seventeenth Century Weekend, beginning with this year's festival detailed above.
Links:
The Yorkshire Ridings Society (who hold "Yorkshire Day" each year)
The Friends of Real Lancashire
Lincolnshire Day – BBC website
The Association of British Counties
The Gazetteer of British Place Names
THE HUNTINGDONSHIRE DECLARATION

THIS DECLARATION is made today, in the year of our Lord Two Thousand and Eight, in the 59th year of the reign of Her Majesty Queen Elizabeth II.

BE IT KNOWN that this day, the 25th day of April, is Huntingdonshire Day. This day is set aside for the celebration of that most excellent County of Huntingdonshire, and the unique distinction enjoyed by its people of being true Huntingdonshire men and women.

For 1,085 years Huntingdonshire has stood as a county. It is a county still and let no man deny her birthright. For though this shire is small it is great, and a man of Huntingdonshire might rise to the highest, for good or ill, or be great in his own home. On a 25th April each year every man and woman of Huntingdonshire can stand proud of their county, and give thanks for the many blessings with which Huntingdonshire is blessed. Thus we declare once more this day:

"God bless Huntingdonshire!"

GOD SAVE THE QUEEN!
Some of the events for the day may be published here when organised. If there are any particular ideas anyone has for ways of celebrating Huntingdonshire Day please send an e-mail to:
mail@huntingdonshire.org.uk