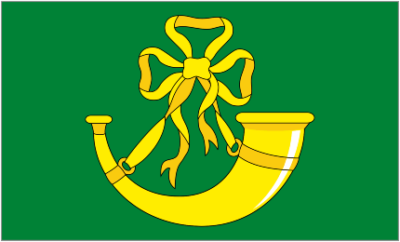 The Flag of Huntingdonshire was established as our county flag in 2009.
A county flag for Huntingdonshire was adopted at the recommendation of The Huntingdonshire Society after extensive local consultations, and duly enrolled in the UK Flag Registry maintained by the Flag Institute in 25 June 2009.
The flag registration is recent, but the pattern is much older and comes from a grant by the College of Arms, the heraldic authority for England and Wales. When the College of Arms granted arms to the former County Council, they included a flag. The flag appears at the very top of the arms; above the shield is placed a crested helm, on which crest a red lion holds aloft a flag-staff with a banner representing Huntingdonshire. The flag is heraldically described in the grant of arms as:
"a Banner Vert charged with a Hunting Horn stringed Or"   – or in plain English; green with a gold, beribboned hunting horn.
The Huntingdonshire Society began promoting the idea of a county flag in June 2007, proposing a design based on the heraldic banner, and we received many positive comments. Over the course of time we found that goods with our flag design were being sold all over the world! In 2009 the Flag Institute took a hand and suggested a new, improved design, which we were happy to endorse. The Flag Institute's pattern, which appears above, became the registered county flag.
The Department of Communities and Local Government decided in 2010 to fly county flags week by week at its headquarters in London and for the first time on 25 April 2011, on Huntingdonshire Day, it raised the Huntingdonshire flag for the week. On the same day, the Huntingdonshire Society presented a flag to Jonathan Djanogly MP in Huntingdon.
Since that time, the flag has gained in popularity and may be seen over public buildings and other places in the county, in particular on Huntingdonshire Day.
The flag is an affirmation of pride in the county.