The biggest challenge facing the identities of the historic counties is their continued confusion with local government areas. Whilst moves towards unitary local government in England provide an opportunity to clear up this longstanding confusion, a quick look at the local government map of Wales shows just how horribly wrong this can go.
Since 1996 Wales has been divided for local government purposes in 22 "principal areas". The council of each principal area is responsible for all local government service provision. The legislation bizarrely styled 11 of these principal areas as "counties" and the other 11 as "county boroughs". The councils for the "counties" can style themselves as "county council" or just "council". The councils for the "county boroughs " can style themselves as "county borough council" or just "council".
The result is a diversity of terminology for areas and local authority names for what is a single structure. The absurdity of this might be funny if it didn't undermine historic county identities. Many in the media annoyingly describe principal areas as "counties" – even those such as "Caerphilly" and "Bridgend" which were never thus described by the legislation. The sensible, consistent approach would be to always describe all of them as "council areas" – as the media always describes the unitary local government areas of Scotland. We live in hope, but rather less in expectation.
As it this wasn't bad enough, however, some of the councils were given and have maintained the names of historic counties despite having an area which really isn't anything like that historic county. The worst offenders are the councils which continue to call themselves "Monmouthshire County Council", "Flintshire County Council" and "Denbighshire County Council". To be clear, ABC has no issue with any of these local authorities, other than with the names them choose to use and with their continued attempt to portray themselves as "counties" rather than "council areas".
This map shows the area of Monmouthshire County Council compared to the historic county whose name it apes.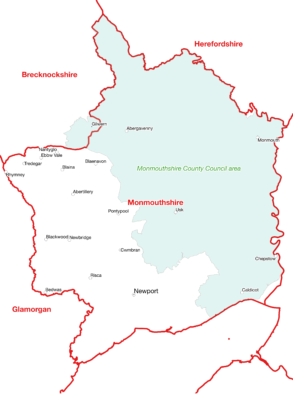 The local government principal area of "Monmouthshire" covers only 60% of the historic county and includes only around 17% of the historic county's population. By what possible logic can this local authority call itself "Monmouthshire County Council"? The council seems to be simultaneously acknowledging that Monmouthshire is an important cultural entity (why else use the name?) but at the same time completely undermining the historic county's identity.
This local authority is allowed to name its principal area whatever it likes and does not have to use the word "county" in its title. It could rename itself "East Monmouthshire Council" any time. This would give due regard to the importance of Monmouthshire but accurately reflect the council's area in relation to the real county.
This ridiculous situation has persisted now since 1996. It may be about to get worse. The Boundary Commission for Wales has recently presented its initial proposals for changes to parliamentary constituencies. As with local government, ABC has no concern about what areas are used, but we do have a concern that these are not named in such a way as to undermine historic county identities. Sadly, the Commission is proposing that the current 'Monmouth' constituency be amended slightly to align with the 'Monmouthshire' principal area and that this constituency also be called "Monmouthshire".
On a recent YouTube post about the historic counties, the Map Men described ABC as being "increasingly exasperated". Can they wonder why?!