Sunday 29th September is the day to celebrate everything we love about the beautiful historic county of Westmorland.
From Kirkby Lonsdale to Newbiggin, from Ambleside to Kirkby Stephen, from the top of Helvellyn to the waters of Windermere, it is a day to celebrate the stunning towns, extraordinary people and spectacular countryside of the most unspoilt of our shires.
On 29 September 1397, Ralph Neville was created the first Earl of Westmorland by Richard II. This date was chosen as the county day in a public vote at the Westmorland county show in 2013.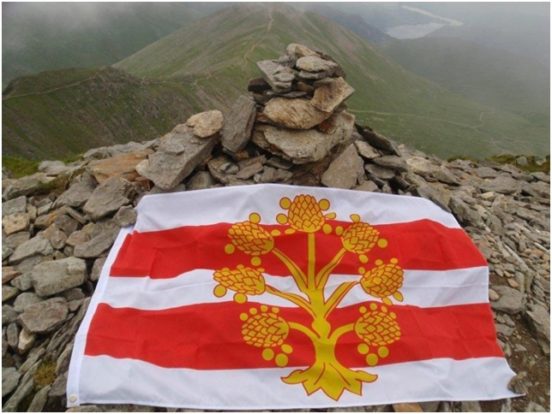 The Westmorland Flag was officially registered on December 30th 2011. The design is from the banner of arms of the former County Council of Westmorland. The shield combines elements from the northern and southern districts of the county, reflecting the fact that the county has historically always comprised two baronies, "The Barony of Kendal" covering the south and including the towns of Kendal and Kirkby Lonsdale and The Barony of Westmorland covering the north, including Appleby-in-Westmorland, the county town.  The two red bars on a white background are taken from the arms of the de Lancaster family, who were Barons of Kendal. On this was placed a heraldically stylised gold apple tree from the thirteenth century seal of the borough of Appleby.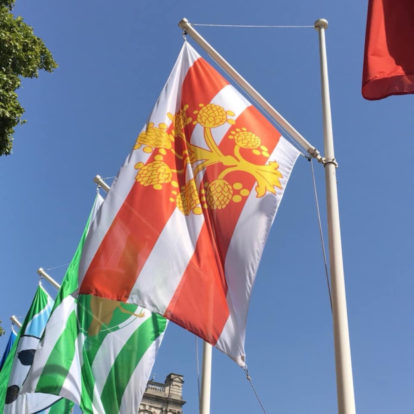 A county day is a day to fly the flag and to host social, sporting and cultural events to celebrate the county. If there is a charity dimension to these events then so much the better. Share news of events, and your thoughts and photos of Westmorland via #WestmorlandDay.