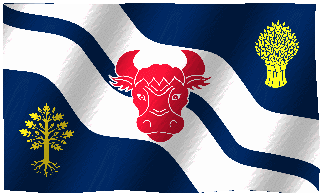 The Flag Institute agreed to register Oxfordshire's flag in May 2017 but only finalised a design which it deemed satisfactory on October 9th 2017. The original registration request was submitted in February 2017.
The design of white wavy stripes representing the River Thames, against background of dark Oxford blue, bearing a red ox head, has been used in the county for seventy years. Originating as the coat of arms of the original county council, the design in recent years has been adapted as a flag, following that body's replacement by a new authority with a different remit and novel set of arms.
The design is seen widely around the county
and has been especially enthusiastically deployed by the county's scout troop
home and abroad
and is seen below, held aloft, on a 2016 visit to Iceland,
The county's rugby players also proudly wear the Oxfordshire flag on their sleeves!
The request to register this acknowledged county design was presented by seventeen local groups.
The Flag Institute required a revision of the design, which led to the current version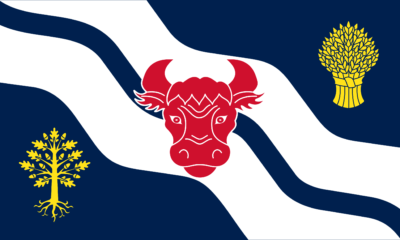 created by Charles Ashburner.
The new flag is seen in flight below.