The winning design in the Sutherland flag competition was announced in local press on January 28th 2018. The chosen design is an amalgamation of several submissions, which features a face on swooping eagle, bicoloured yellow and red against a counterchanged red and yellow background. Along the hoist are three gold stars. The red and yellow colouring and the three stars derive from the arms of the earldom of Sutherland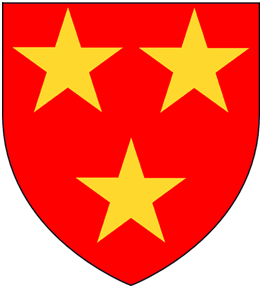 and are also seen as reflective of the locality's intense sunrises and sunsets
The Sutherland competition took place across September and October 2017, with judging taking place on Monday October 30th
at Drummuie in the county. Entries were received from as far afield as New Zealand Japan and Sweden with many featuring the county's wildlife. The next step will be to "finesse" the art work, the winning design will then be manufactured with a formal unveiling and presentation ceremony held in the new year.
Pictured are, back row from left: Councillor Jim McGillivray, vice Lord Lieutenant Colin Gilmour, Lord Lieutenant Dr Monica Main, vexillologist Philip Tibbetts, Kieran Day, Kinlochbervie High School, Deputy Lieutenant Frances Gunn.
Front row, from left: Syke Macdonald, Golspie High School, Lord Lyon Dr Joseph Morrow, Carmen Heddie and Erin Mackintosh, both Farr High School, Deputy lieutenants Patrick Marriott and Graeme Smart, head teacher at Kinlochbervie High Scghool
Upon its announcement Colin Gilmour commented,
"I think it is eye-catching, which is what you want. A lot of these flags you would not know one from the other. This will stand out at a distance."
A spokesman for the panel said that an eagle had featured on a considerable number of the entries and noted that,
"The eagle was chosen as a unifying feature of the flag – the west (of Sutherland) now has a fair population of  white-tailed sea eagles  and the east
has golden eagles  in good numbers."
A distribution reflected in the bicoloured form of the eagle.
"It was felt that the bird's swooping pose, albeit perhaps unique on a flag, was considered bold and easy to identify from a distance"