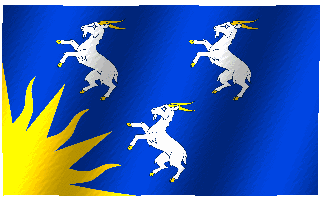 The flag of Merioneth(shire) flag was registered by the Flag Institute on January 2nd 2015, becoming the 37th county flag. It is adapted from the seal used by the former county council
This in turn was derived from the description of a banner borne by the men of Merioneth at the Battle of Agincourt, in the 17th century poem of the same name by Michael Drayton. Here he wrote of "three goats dancing 'gainst a rising sun"; the shield was blue, the sun golden and the goats white. Speculation regarding this unusual arrangement suggests a connection with Cader Idris, where goats browsed and behind which the sun rose.
This design appears in the The book of Public Arms by A. C. Fox-Davies' from 1894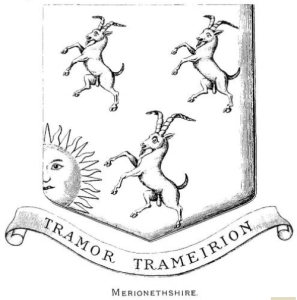 and on illustrated plates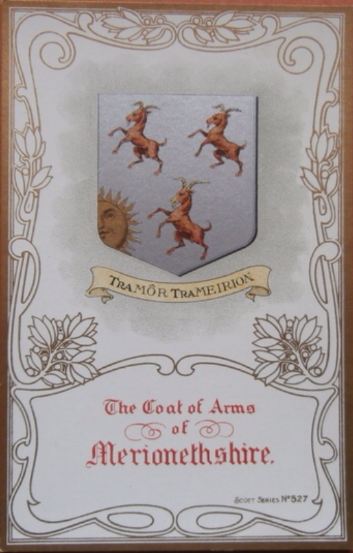 Today the same device can be found on the ceiling of the Shanklin Reading Room at Bangor University, representing the county
and has been adapted for use as a badge by the Clwb Rygbi Hen Ramadegwyr Dolgellau ( Dollgellau Rugby Club )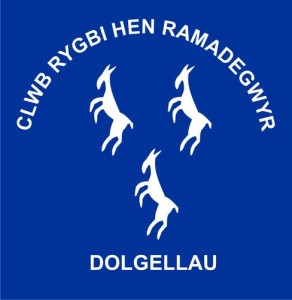 and the local running club, Clwb Rhedeg Meirionnydd (Merioneth Running Club)

This latter organisation, aware  that similar county emblems in Anglesey and Caernarfonshire had been rendered as flags, contacted the Flag Institute, formally requesting registration of this traditional Merioneth emblem as the county flag and it was duly registered.
The design, with a sun in the lower hoist corner,  is unique amongst British county flags and makes for a distinct and striking flag for the county.