The proposed flag was devised by Jason Saber and realised by Philip Tibbetts. It combines charges found in the county's armorial history. The kingdom of Brycheiniog was established in the 5th century by a revered Welsh patriarch named Brychan and survived until its subjugation in the Middle-Ages. In the later Mediaeval period arms were assigned to Brychan,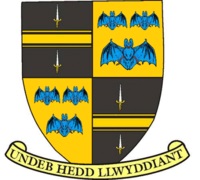 his quartered shield featuring the purported arms of his father Anlach in the first and fourth quarters, black with a gold bar across the centre and two smaller bars above and beneath that (a cotised bar) with silver sword at top and bottom with the arms attributed to his mother Marchell, gold with three blue bats, thus;
Upon its establishment in 1889 the Brecknockshire County Council adopted the attributed arms of Brychan but never obtained an official grant of armorial bearings. In adopting these legendary arms, albeit informally, the County Council asserted a linkage between the early kingdom and the later county and highlighted the historical significance of the founding father Brychan. The symbols used clearly being felt to be appropriate and locally meaningful. Accordingly, the proposed flag reworks the essential and more distinctive elements found in the arms.
The flag therefore features three main colours of black, gold and "cerulean" blue. The black features as the main field colour, upon this is a cotised gold stripe i.e. a stripe with two smaller ones above and beneath, as found in the arms of Brychan, which is felt to be a particularly elegant and pleasing arrangement. Across the cotised gold stripe is placed the silhouette of a bat with outstretched wings in the blue shade.
The proposed flag is locally meaningful with historically relevant symbols and colours, presented in a simple but unusual and visually interesting arrangement. Additionally bats are an uncommon charge on flags so the design is generally rare and would certainly be unique amongst British county flags.