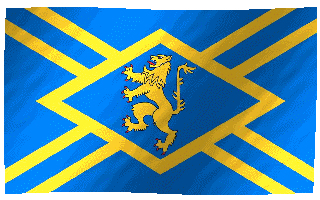 The East Lothian flag was the winning design in a competition held in 2018 to design a flag for East Lothian/Haddingtonshire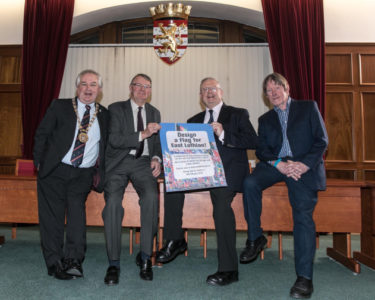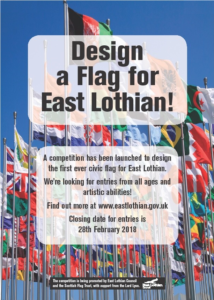 Four very similar final designs
comprising the Lord Lieutenant of East Lothian, Michael Williams MBE; Lord Lyon Joseph Morrow; East Lothian Council Provost John McMillan and Chief Executive Angela Leitch; David Williamson, Chair of the Scottish Flag Trust and Robbie Scott, Editor of the East Lothian Courier, at Haddington on the 8th of June 2018.
Design A amongst the four finalists, was the only really viable option, which at least complies with the spirit of good design, with contrasting colours and is a fairly simple arrangement. The voided gold saltire, on blue, reflects the local birthplace of the national flag,
with the gold colour signifying the wealth of East Lothian's farmlands and reputation as the granary of Scotland, the blue stripes through the gold are also intended to represent the rivers Esk and Tyne.' The lion rampant, is taken from the arms of the East Lothian Council
in token of King William "the Lion". However, a lion rampant is a markedly generic Scottish national emblem, a more locally resonant emblem, such as goat and ivy, a burning sun, or a peregrine falcon, all of which have been used in local symbology would have been a more distinctly "East Lothian" choice.