A competition was held in 2018 to design a flag for East Lothian/Haddingtonshire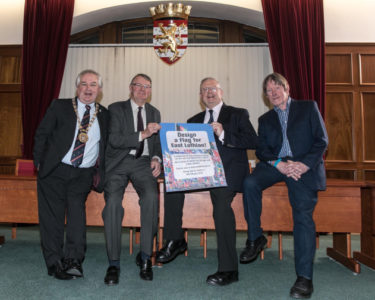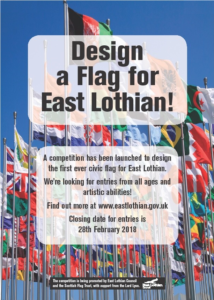 Four very similar final designs
comprising the Lord Lieutenant of East Lothian, Michael Williams MBE; Lord Lyon Joseph Morrow; East Lothian Council Provost John McMillan and Chief Executive Angela Leitch; David Williamson, Chair of the Scottish Flag Trust and Robbie Scott, Editor of the East Lothian Courier, at Haddington on the 8th of June 2018.
The four finalists will were entered into a public vote which ran until 5.00pm on Friday 31 August. The winning design is set to be revealed at a ceremony on Saint Andrew's Day, November 30th, following its registration by the Lord Lyon.
The four finalists regrettably fall short of best design practice. Specifically, the judging panel has exhibited a very limited design remit, whilst the choice of colours evident in these choices, blue for sea, yellow for a sandy beach, green for land, is a trite and tired option. What do they say directly about East Lothian that could not be representative of Fife, for example, or Argyll perhaps?
Design B features a map denoting the council's administrative remit, NOT the actual county of East Lothian, so cannot be considered representative of the actual county of East Lothian. A further flaw is the inclusion of one flag on another, as part of its design; complicated, confusing, unnecessary and its depiction is also crude and comic, looking like something from a cartoon. It's unlikely to raise passion and inspire a firm local identity.
Flag C appears to be an unmodified scribble. It seems to be a depiction of a green hill with the Scottish saltire beaming out into the sky from one side. Crude and amateurish, allegedly the blue is in fact supposed to be the sea! It's highly unlikely that anyone would recognise this. Again, use of the national flag on a local one, as described, is inapproproiate and unimaginative. Imagine this "flag" flying thirty feet in the air, fifty feet away, would such a design stir the soul, even if one could actually make out what was being looked at?!
Flag D had the potential of being a fair design if left at stripes and saltire but the best flags are kept simple. Whilst this arrangement might look attractive on a static page or screen it will not translate well when flapping in a gust or hanging limply, the more details there are, the less identifiable it is. When in flight, thirty feet high, fifty feet away, the lion will just look like a blob against the other colours. Many people designing flags fall into the trap of throwing everything they can think of into the arrangement, failing to recognise that less is more, the simpler the design the more discernible it will be, the more eye catching it will appear. Additionally how is a lion specifically, an East Lothian, emblem? It is palpably not unique to East Lothian, it is not remotely distinct, lions appear across Scotland, it is a very generic "Scottish feel" arrangement, that could represent virtually any Scottish county. Something similar represents Nova Scotia to reflect its general Scottish roots. Other more distinct devices might have been considered such as a blazing sun; a goat; a goat and ivy combination; a peregrine falcon.
Design A is really the only viable option, it at least complies with the spirit of good design, with contrasting colours and is a fairly simple arrangement. The voided gold saltire, on blue, reflects the local birthplace of the national flag,
with the gold colour signifying the wealth of East Lothian's farmlands and reputation as the granary of Scotland, the blue stripes through the gold are also intended to represent the rivers Esk and Tyne.' The lion rampant, is taken from the arms of the East Lothian Council
in token of King William "the Lion". A a more locally resonant emblem, as described, would have been a better choice.