There are several prospective designs for a flag for this county. The first shown is from Philip Tibbetts. In this the four white diamonds represent the archipelago that makes up the county – including Arran, Bute, Cumbraes and Holy Isle – whilst the blue field itself symbolises the Firth of Clyde in which the islands are located. The blue and white diamond pattern also reflects the chequered bar (heraldically a "fess") of the arms of the Stewart clan
which originated in the area. On each white diamond is a black ship derived from the former civic arms of Buteshire
which recall the stronghold the Somerled dynasty had on Bute – the family was associated with arms bearing a ship
The ships also recall the famous 'Clyde Steamers' that served the county and subsequently reference the Clyde itself.
The second proposal from Philip Tibbetts specifically represents the county's three main islands Arran, Bute and Great Cumbrae. Again the blue and white checked fess is recalled in counter-changed partitions of the flag and the same ship theme, as seen in the previous suggestion, deriving from the Somerled symbols, also appears.
Another suggestion for Bute, from Rupert Barnes, features the chequered blue and white bar more prominently and is based on the arms of the Duke of Rothesay (the Prince of Wales)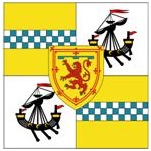 and those of the Marquess of Bute,
each of whom has a quartering of Or a fess chequy azure and argent, that is yellow with a blue and white chequered bar across the middle. Rupert advises that his choice of a pale blue field has no specific symbolism but is used for aesthetic reasons and to aid the effectiveness of the flag. Rupert's second proposal has the colours found on both local aristocratic arms, replacing the light blue background with a yellow one. Finally, the last shown proposal from Jason Saber, combines Philip's ships which are an acknowledged local symbol, set against Rupert's suggested yellow field and blue and white bar.