Philip Tibbetts has created this flag proposal for the county. The blue edging on three sides of the flag represents the peninsular nature of the county, the golden colour within recalling King James VI of Scotland's quote that the county was fringed with gold. The red lion rampant on gold was the badge of the traditional province of Fife
and appears in the council civic arms as a shield on the arm of an armoured knight
The red lion also represents the county's historical links with the monarchy and subsequently the county's title as 'the Kingdom of Fife'.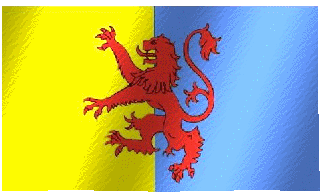 Another proposal from  James Wayne Moffatt and Terry Atkinson reworks the same colours and themes in a different arrangement, with the sea to the east in light blue and the golden rich land to the west.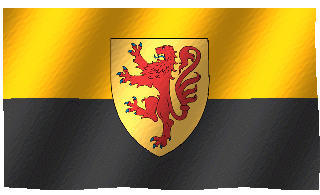 Adam Clark's design again includes the red Lion rampart as an obvious nod to Fife's royal connections, on its yellow or gold shield. This in turn is placed over a bi-colour field or background of black and gold, the latter being a darker shade than the shield to provide the necessary contrast. The upper stripe recalls the quote from King James VI about the beaches being fringed with gold. The lower black stripe symbolises the county's coal industry, a significant feature of Fife's local heritage, uniquely represented in this design. The coal being taken from the ground, the black is at the base of the flag, with the golden sands at the surface, sitting above.