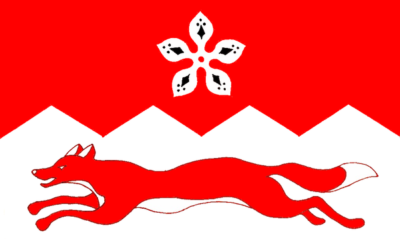 One of only three English counties without a registered flag, the above fox and cinquefoil design is now being promoted by a group in the county including a Facebook page here 
The design features several elements or charges long associated with the county, reflecting a rich symbolic history; namely, a red and white serrated or zigzag division, a five petal floral symbol termed a cinquefoil and a running fox.
The red and white divided field was a pattern borne by the de Montfort earls of Leicester, whose family emanated from Normandy. Simon(the younger) de Montfort is ascribed arms in the heraldic roll (Roll temp. Henry III) with a shield with a white and red indented division.
As the de Montfort family also used a white lion a red shield, it seems that this older set of arms was used to represent the office, the earldom of Leicester. The environs of Hinckley came to be strongly associated with this design being termed the "Arms of Honour of Hinckley" and it today forms part of the badge of Hinckley AFC
The De Montforts also married into the De Beaumont (De Bellomont) family, who bore arms depicting an ermine cinquefoil against a red field
A tile bearing a cinquefoil is also amongst the designs located at the 14th century Saint Mary de Castro church in Leicester.
The red and white and zigzag division and the ermine cinquefoil are all found in the arms of Leicestershire County Council.
and the proposed flag retains this traditional pattern but in the horizontal depiction found on the council's arms.
The De Beaumont cinquefoil appears on the appear sectionhaving been associated with the county since at least 1784 when it appeared on 'A New Map Of The Counties Of Leicester And Rutland Drawn From The Latest Authorities' by Thomas Conder
A cinquefoil also appears on a number of civic arms of towns in the county and on the arms of the local university
Leicestershire is also closely associated with a  fox, it is the crest of the council's arms
and is deployed as  a modern logo
Originally marking the county's status as the home of organised hunting, the device is now proudly and widely used to symbolise Leicestershire itself, superseding the original reference.
Local bodies using a fox include the county ambulance service
Leicestershire, Northamptonshire and Rutland Army Cadet Force;
the Women's Institute
Leicestershire Scouts
the county cricket team
, which, pointedly, is named "Leicestershire Foxes"
The local golf union
the county rugby association;
squash
badminton;
tennis 
and bowls
teams.
Leicestershire's distinct cinquefoil and fox emblems are presently found in combination on the badge of Leicester Football Club
the emblem of the county police force
and the insignia of the county's Amateur Swimming Association
The combination of fox and cinquefoil on the flag thus continues a recognised county theme, in a simply constructed and locally meaningful design.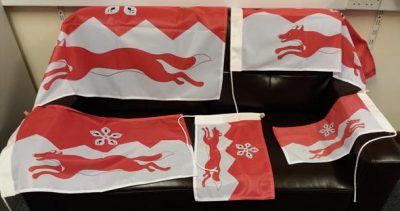 The flag is seen here with a local military re-enactment group.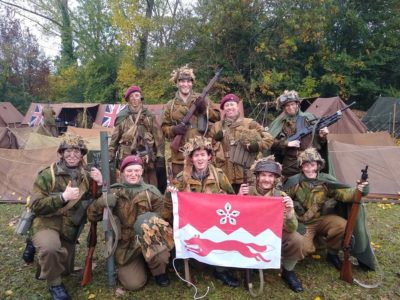 The flag is promoted here https://www.facebook.com/LeicestershireFlag/