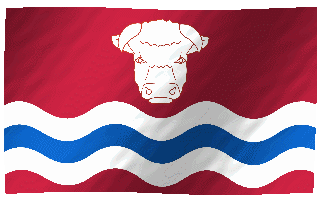 The Herefordshire flag was the winner of a 2019 county flag competition and was revealed at a ceremony at Hereford Cathedral
on November 2nd, It was designed by vexillographer Jason Saber.
The flag reworks the the coat of arms awarded to Herefordshire County Council in 1946
the basic colour of the flag is red to reflect the famed red earth of the county
as seen in these photos of Herefordshire fields,
A bull's head, from the famed Hereford breed,
typically a dark reddish brown, with a wide white face.
is featured. The Hereford bull is a typical county theme being used for example as the badge of Hereford United Football Club
and one appears  on the insignia of the local farmers' market association
and and the logo of the county cricket association
A Hereford bull is also found on the badge of the county's branch of the Women's Institute
while a magnificent statue of the mighty beast can be found in Hereford
As on the council arms, three wavy stripes, blue and white, represent the River Wye which flows through the county and refer to the "FORD" element in the county's name. The waves are placed at the lower part of the flag allowing the bull's head to appear in a prominent spot at the upper centre of the flag.