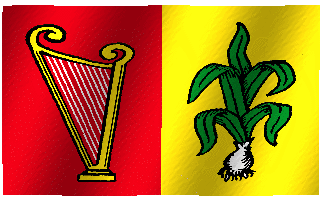 The proposed flag, illustrated by Brady Ells, is his suggestion as a flag for the county based on the quasi coat of arms which featured in the 1933 work Civic Heraldry of England and Wales by C.W Scott-Giles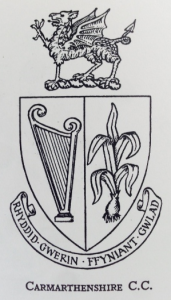 used informally by the Carmarthenshire County Council, prior to the formal award of arms in 1935. The design features two avowedly Welsh symbols, a leek and a harp – the latter being apt as the county is an important centre of Welsh musical traditions and poetry.
Whilst clearly not having a specific nor long standing local provenance, being rather, a combination of generic Welsh emblems, this civic insignia was also used to represent the county in a general way as demonstrated by this Carmarthenshire County Bowling Association badge,
In 1935 the local council received a formal award of arms
which combine two Welsh dragons with two gold lions on a quarted red and gold, counter charged field, the quarters being divided by an an indented line. The lion and indentation are from the arms of Rhys ap Tewdwr Mawr, King of Deheubarth, a kingdom occupying the territory of modern day Carmarthenshire, in the eleventh century
and it has been suggested that an armorial banner formed from these arms would be an appropriate flag for the modern county which occupies the territory of the ancient kingdom
The erstwhile administration of Dyfed included the Deheubarth, arms to signify the inclusion of Carmarthenshire as part of its territorial remit
so there is certainly a precedent for use of this design to represent the county, indeed the flag is flown in the county today, as seen here in flight over Carmarthen Castle

An alternative design has been created by Philip Tibbetts, taking the shield from the later council arms arms as inspiration.
This design retains the same colours and indented divisions of the civic design. The county's soubriquet of "the garden of Wales" is recalled in the inclusion in each quarter of water lillies, all suitably countercharged in red and gold. These flowers also reflect the county's recognition as the "Ystrad Tywi" territory i.e. "Vale of the River Twyi/Towy".